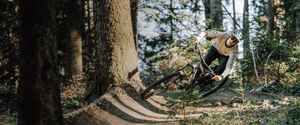 Our goal is to develop innovative components that create a perfect connection between rider and mountain bike.
TATZE MTB Pedals and Grips
Snappy flat pedals for trails - the TATZE pedals are the first choice Enduro pedals or at the downhill pedal. The flat paws are currently also in demand as ideal eBike pedals or gravel pedals. The range is complemented by practical ones hybrid pedals for MTB - these are hybrid pedals for every terrain on an MTB or gravel bike from trail to alpine cross - for more efficiency and safety - of course all click pedals are SPD compatible. MTBs are also included in the TATZE pedal range pedals for children and juiors - light, cool & with the best grip.

All TATZE pedals are certified.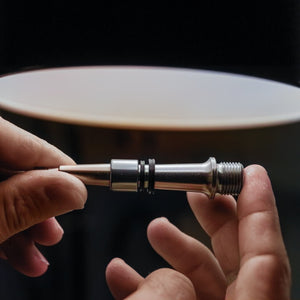 Innovation
For a perfect connection to the bike, we develop new solutions and optimize our pedals and MTB grips down to the smallest detail.
Quality
We build our MTB pedals as light as possible, use high-quality bearings and do not compromise on stability.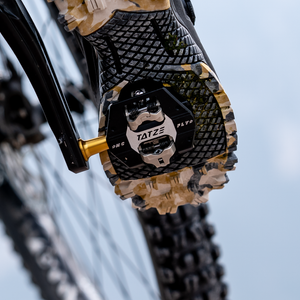 function
We uncompromisingly optimize each product for its intended use.
Tatze MTB pedals in reviews and tests
Ich möchte euch ein großes Kompliment dalassen: Ich habe gestern meine Kombipedale erhalten und bin jetzt schon begeistert. Super Qualität und der Grip ist ein Wahnsinn!!!
Kerstin / Kundenfeedback
Mit dem Mc-Fly endlich die optimalen Pedale für mein Gravelbike gefunden. Löst souverän aus, ist leicht trotz Auflagefläche und wenn mal rauh behandelt, dann hilft man in Tirol ganz schnell und pragmatisch.
Bernhard / Kundenfeedback
Ich habe mir die CONTACT CNC Pedale inzwischen gekauft und montiert. Ich bin von der Qualität und der Optik begeistert. Ach ja, neue Griffe habe ich mir auch noch dazu gegönnt.
Sven / Kundenfeeback
I'm really excited about the SPORT GRIP. The finger pits allow me to save energy uphill and the ball pad absorbs shocks well downhill.
Thomas / customer feedback
The TWO-FACE pedals are great, a perfect and safe stand is a dream. I've never been so confident on a bike.
Martin / customer feedback
The look, function and weight of the MC-FLY (358g including pins) are great. Conclusion: One of the best pedals on the market. 
Bikesport e-mtb / Issue 4/2020
You almost need a firearms license for the TATZE MC-AIR, they are so biting. The flats with their 14 PINs per side literally claw into the sole.
Bikesport e-mtb / Issue 3/2019
After numerous other pedals I bought the Two Face. What can I say: I've never had a better padal. 
With the MC-FLY you have succeeded in creating a fantastic pedal. Great for clicking in and out and extremely snug contact with the shoe.
Max Trafella (3rd ÖM Enduro 2020) / TATZE Team Rider
The TWO-FACE pedals are great and have exceeded my expectations 🤩
The first combined pedals that have good grip and a very good click.
Johannes / Customer feedback
We can't (yet) judge how they perform on MTBs, but TATZE accidentally created excellent Gravel pedals with the MC-FLY!
Gran Fondo Magazine / Issue #015
The TWO-FACE pedals not only look great, they also work great - thank you for the fast delivery!
Jürgen / customer feedback
The replacement part was already in the mail today. What can I say, I am more than enthusiastic about the service - the service orientation and the handling is really great. Customer feedback Andreas
Kundenfeedback Andreas
TATZE AWARDS
We have already received several awards for our products, which spurs us on to develop functional and high-quality mountain bike components even more.
TATZE mountain bike pedals review and test
TATZE mountain bike handlebar grips reviews
SUSTAINABILITY
We ship C02 neutral.
Our products are built to last.
Most of our products can be recycled.